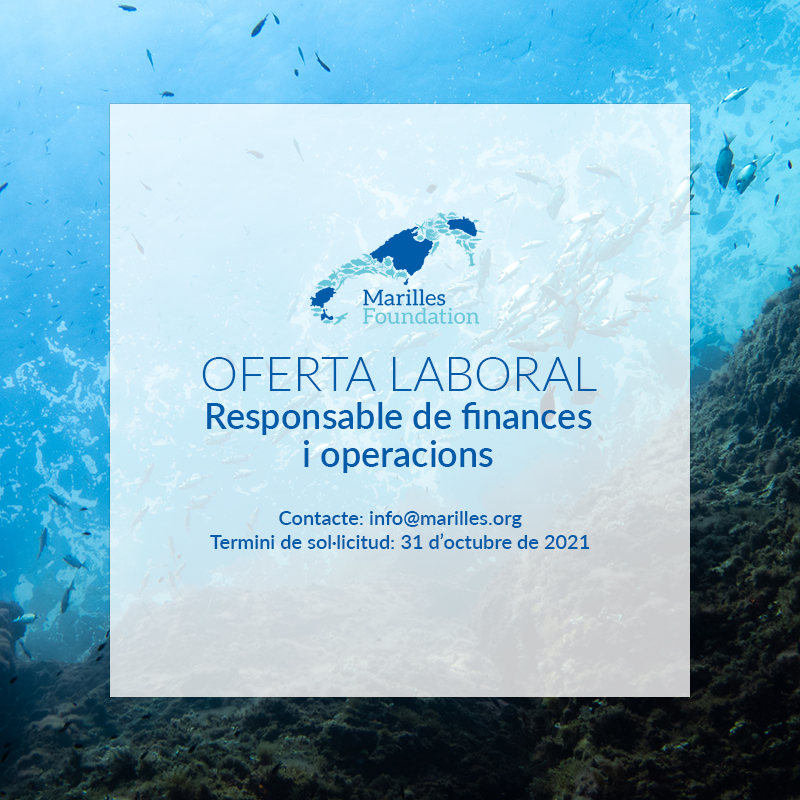 OPERATIONS MANAGER (finance and fundraising)
Marilles Foundation is a non-profit organization that works for the conservation of the Balearic Sea. Since 2018 we have funded 49 projects, supported more than 30 organizations and raised more than 2 million Euro in support of marine conservation. Our volume of work has increased, and we are looking to expand our core team with an operations manager to support us with financial management, reporting to funders, identifying new funding sources and help with office related task.
What are we looking for?
We are looking for someone who is passionate for the Balearic sea, proactiveand self-driven, structuredand analytical. With proven experience in office and financial management, a strong self-organizing capacity and – ideally - good marketing and communication skills. With the ability to manage a diversity of tasks and responsibilities to ensure the good management and long-term success of this exciting initiative.
Description of tasks and activities
Budget management: update budgets and forecasts for Marilles Foundation as well as for key project areas.
Produce financial reports for funders, board, and for internal purposes.
Process payments and invoices: upload payments in the system regularly, assign invoices and receipts to relevant projects and budget lines.
Update current funders on project development.
Assist on design of fundraising strategy and research on prospective funders.
Prepare presentation materials for prospective funders.
Provide support on preparation of funding proposals.
Grant management preparation and follow-up on grant contracts, review grant reports and keep track of all relevant paperwork.
Work closely with other members of the Marilles Foundation team and provide support in key areas when required.
Skills required
Technical skills: Higher degree, preferably related to finance and accountancy, marketing; or related disciplines.
Organized and goal-oriented: Professional experience in budget and financial management.
Analytical: Experience with analysis and interpretation of data and spreadsheets.
Communicative: Excellent oral and written expression.
Diplomatic attitude, negotiating skills and persuasion.
Preferably able to communicate in Spanish, English and Catalan.
Familiarity with the design of tables, graphs and infographics.
Motivated: Proactive and entrepreneurial attitude.
Precise: Attention to detail and critical eye.
Reside in the Balearics
Familiar with the current marine context in the Balearic Islands.
What we offer?
Full-time permanent contract (subject to a trial period).
32,000-40,000 Euros of gross annual salary (based on experience).
Work from home and/or co-working space in Palma.
Note: we are open to consider double candidacies (i.e. 2 part-time contracts)
Interested?
Please send your letter of motivation and Curriculum Vitae (2 pg maximum) explaining why you would like to have this position and why you are the right person for the job.
Contact: info@marilles.org
Application deadline: Oct 31, 2021
Interviews: November week 15-19, 2021